Manges - I was a teenage rocker - 7"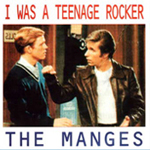 Il meglio del punk rock italiano. Qui al loro secondo ep.
Best of italian pop punk rock. Their second ep.
Tracklist:
A1. Broken shoe
A2. SOS I'm in love
A3. I wanna be a Cunningham
B1. Only you are the girl who hits the gas
B2. Frankie and Yohnny
B3. She's a punk
Released by Smartz, Non ce n'č, Krakatoa.
SM002 - 7" 1996 -
SOLD OUT