Violent Breakfast / Laghetto - Split - 7"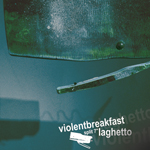 Due pezzi di aggressivo emoviolence per i pisani Violent Breakfast e un lungo delirio post-pocapocalittico per gli eroi bolognesi. Vinile verde trasparente.
Aggressive emoviolence from Pisa split with the mad post-pocapocalyptic heroes from Bologna Laghetto. Green transparent vinyl.
Tracklist:
A1. Violent Breakfast - Ricordi?
A2. Violent Breakfast - It was an apple
B1. Laghetto - Canzone per Antonio Masa
B2. Laghetto - Musicadroga
Released by Smartz, Donnabavosa, Concubine, Sonsofvesta, Produzionisante, Gaffer, Bedbeforebreakfast. Violent Breakfast is: Andrea (vocals, keyboards), Luca (bass), Nicola (drums), Theo (guitar). Laghetto is: Tuono Pettinato (fake guitar), Giovanni Di Raudo (guitar, vocals), Arazzo Ratigher DeLaMuerte (bass, vocals), G.j No Rules Ottone (drums).
SM030 - 7" 2005 -
SOLD OUT