Distruzione / Church of Violence - Storie dalla grande pera - 2x7"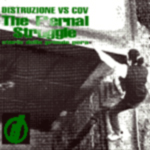 "Fugazi meets Husker Du" sound per i Distruzione, che qui si scontrano coi maestri dell'hashish core torinese C.O.V. Doppio vinile e superconfezione. Discone!
"Fugazi meets Husker Du" sound for Distruzione, split with the kings of Turin's hashish core C.O.V. on a fantastic double 7".
Tracklist:
A1. Distruzione - Blatera
A2. COV - La mia attitudine (dubclubversion)
A3. Distruzione - Correre
A4. COV - Tu pensa
B1. Distruzione - Ci tengono
B2. COV - Quello che vi resta
B3. Distruzione - Altrove
B4. COV - Siaedi
C1. COV - Figlio
C2. Distruzione - X
C3. COV - Apital
D1. COV - Banchetto
D2. Distruzione - Luci
D3. COV - Fiume
Released by Smartz, Vinylcrew, Sborra, Mida.
SM003 - 2x7" 1997 -
SOLD OUT