Suburban Noise / Room 104 - El sonido de la ciento y cuatro - 7"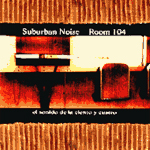 Hardcore melodico dal Salento. Due bands in splendida forma.
Melodic HC from Salento. Room 104 revelation of the year, but both sides are really hot.
Tracklist:
A1. Suburban Noise - Springleaf
A2. Suburban Noise - It's curious
B1. Room 104 - The neverending senseless research
B2. Room 104 - Usual appening
Released by Smartz, Laboratoriodell'utopia, Autoproduzionibastarde, Causapersa, Terapiaintensiva, Sarchiapone.
SM012 - 7" 2000 -
SOLD OUT