Kafka / Defdump - Split - 7"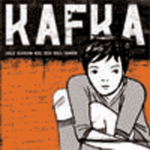 Screamo da Genova / chaotic emocore dal Lussemburgo. Ristampa su vinile arancione trasparente.
Kafka = powerful and screamish hc from Genoa. Defdump are from Luxemburg and play caothic emocore. Reprint ep, 500 copies on transparent orange vinyl.
Tracklist:
A1. Kafka - Non credere
A2. Kafka - Una vita all'inferno
B1.
Defdump - The shallowness of beauty
B2. Defdump - The aesthetic of shame
B3. Defdump - Silk threads and fine lines
Released by Smartz, No!, Bloodytearscollective, Hurryup.
SM021 - 7" 2003 -
SOLD OUT