Spacciatori di Musica Stupefacente - Ancora una volta - 7"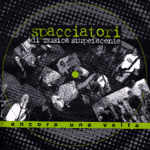 Tra l'old school dei Negazione e il punk melodico dei Dag Nasty. Limited edition 400 copie.
These 4 guys have Husker Du, Kina and old italian HC of Negazione in the heart. Limited edition 7" in 400 copies.
Tracklist:
A1. Sicuro di avere ragione
A2.
Oltre il tuo ego
B1. Solo
B2. Turn off
Released by Smartz, ElPaso, 4Dogs, Fortementeindiziati, Cozzapelosa, Nuclearsunpunk, Cellulaprima.
SM017 - 7" 2002 -
SOLD OUT