Laghetto - Sonate in bu minore per 400 scimmiette urlanti - CD digipack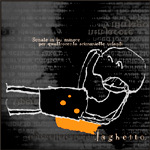 Come se i Refused fossero stati internati in un reparto di psichiatria. Culto.
New school HC for psychiatric institutions from Bologna, Italy. 10 tracks with thousands of (screaming) vocals and ninja turtles. Esagerato.
Tracklist:
01. Proud of my pappagorgia
02.
Uomopera
03. Requiem for cb
04. L'odore dei pomeriggi (quando li butti via)
05. Devoured by carlabruni
06. Ninja core
07. Armageddon in casa lapenta
08. Ss. napoli football players 1982-1989
09. Gioele stai attento
10. La mano senza dita
Released by Smartz, Donnabavosa, Barlamuerte, Anemicdracula, Shove, Riot, Fbyc, Hurryup, Nothingcity, Radioriot, Kick, Cervellomorto, Produzionisante, 8mm, Vacuumstudio.
SM019 - CD digipack 2003 -
SOLD OUT