X-Mary - Green Tuba - 12" LP with CD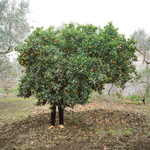 Gli X-Mary ci regalano il loro sesto disco. Dentro Green Tuba ci sono i soliti ingredienti del quartetto lodigiano, ma cucinati con più cura del solito, e pure una sezione fiati. Il lato A è quello rock, il lato B pop e psichedelico. Se cerchi un singolo, ascolta "Mi sento solo". Se cerchi una pseudo-cover dei Camillas, ascolta "Picante". Se cerchi grane, hai sbagliato gruppo.
Green Tuba esce in LP con CD incluso. Abbilo!
Inside Green Tuba there are the usual ingredients of the Lodi based quartet, but cooked with more care than usual, even a horn section! The A side is rock, B is pop and psychedelic. If you are looking for a single listen to "Mi Sento Solo". If you are looking for a pseudo-cover of Camillas, listen to "Picante". If you are looking for trouble, you got the wrong group.
Green Tuba comes in LP with enclosed CD. Abbilo!
Tracklist:
A1.
In Prima Fila
A10.
Patatracco
A2. La Piazza Non C'è Più
A3. Solo Mattia Mi Dà
A4.
Pasticciotti
A5. Sì Mon Amour
A6. Gigia, Il Cane Di Cristiano, Si È Persa Nel Bosco Del Castello
A7. La Rivista
A8. Tiziano Iron
A9. Badula!
B1. Viados De Porao
B10. Esser Felici
B11. To Mama L'è Un Fiöl D'una Vaca De Merda
B2. La Giornata Del Nuovo Pizzaiolo
B3. Racconti Dell'Africa Nera
B4. Picante
B5. È Andata Via Con Lui
B6. Ostrapeka
B7. Alle 18 Le Capre Bevono
B8.
Mi Sento Solo
B9.
Io Amo Te
Released by Smartz Records, Escape From Today, Wallace Records, I Dischi Di Plastica, Lemming Records, Noise Ville, A Shame, Le Arti Malandrine.
SM053 - 12" LP with CD 2012 - 10 €