Less Than Zero - Frattaglie - CD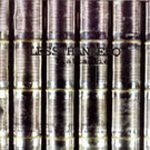 Dissacrante punk dal milanese, originale e politicizzato. Non solo da ascoltare ma da leggere. E pensare. Ora sono i Bava.
Original & political punk with a lot of things to say: not a cd for listening only, but reading and thinking too. Now they play into Bava.
Tracklist:
01. Preludio
02. Lamorelanottelamorte
03. Anima, culo e forza lavoro
04. (Dia)cronica incoerenza
05.
Neraprimavera
06. Neraprimavera pt.2
07. Karlmarxpunx
08. Fet ed
09. Gli ultimi 100.000 quarti d'ora
10. Ongino knaus 75%
11. Misantropiqua
12. Indagine di un cittadino al di fuori di ogni sospetto
13. Un po' pulista
14. Zpandi (1993, remix)
15. Ansia
16. Una volta per tutte
17. Soluzione #2
Released by Smartz, Dizlexiqa, K7, Svirgin, Kortocirkuito.
SM008 - CD 1998 -
SOLD OUT