Cornflakes Freaks - Suck my worm - 7"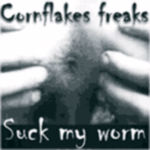 Hardcore melodico dalla sicilia, ottimamente suonato e con ottimi testi, e la copertina pių brutta della storia. E' il loro secondo ep.
Melodic HC from the south coast, with intelligent lyrics and the orriblest cover-paint of the year. Their 2nd ep.
Tracklist:
A1. Stornello
A2. Suck my worm
A3. Chocolate biscuits
B1. Another grey carpet
B2. Find peace
B3. Ippo song
Released by Smartz, Kortocirkuito, Fortementeindiziati.
SM010 - 7" 1999 -
SOLD OUT